Advertising
Complete FoodService Group Media Kit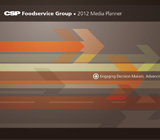 —View the Complete FoodService Group 2012 Media Kit
MonkeyDish e-Media Planner
MonkeyDish is web 2.0 for foodservice--providing a customizable website for busy foodservice professionals to help them in their business and beyond. Whether it's for creative ideas, operational needs or both, users of MonkeyDish keep coming back for more.
—View the Restaurant Business media kit including the editorial calendar & rates
Restaurant Business Media Planner


MonkeyDish's host publication, Restaurant Business magazine, is street smarts for the entrepreneur and exclusively serves regional & emerging chains, multi-concept and high volume independent restaurants. Published monthly, it provides restaurant operators with ideas to drive growth, how technology creates opportunities and how to stay ahead of the competition.
—View the Restaurant Business 2012 editorial calendar


Don't miss Restaurant Business' sister publications:
FoodService Director—serving all segments of the non-commercial foodservice market, FoodService Director magazine informs readers about innovations and innovators through trends, news and insights.

Check out more at www.foodservicedirector.com
ID—ID Report, an e-magazine for the foodservice distribution market, targets everyone from DSRs to distribution executives and is the source for information, analysis and training. ID Access serves as the web portal for all foodservice distribution needs.

See more at www.MyIDAccess.com